Profile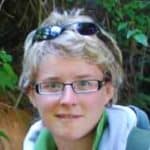 Kate Davies
My CV
Education

St Helens RC School (1992-1995); Eveswell Primary School (1995-1999); Rougemont School (1990-2000); Christ College Brecon (2000-2006)

Qualifications

University of Wales Institute Cardiff (now Cardiff Metropolitain university) 2007-2011.

Work History

Pilgrims Teas Rooms, Shawnigan Lake School, BC, Canada; The Old ford inn, Brecon; The Royal Oak, Pencelli; Brecon Cathedral Offices;Tower Cafe, Brecon

Employer

Tower Cafe and Academic Associate, Cardiff Metropolitan University.
My Work:

I am hugely passionate about preventing injury, my work aims to understand the dynamics of movement and forces that cause it to aid in this prevention.

Read more

Growing up I had a huge passion for sport, I played hockey, cricket, football, tennis and netball among others. Not only do I participate in sport I am also an armchair sports fanatic! Suffering injury myself and observing the drastically changing injury rates in sport has led to my ever developing interest in injuries.

There climate is now resulting in the merging of seasons evident by the fact there is snow  in where i am at the moment and it is the 29th April. Consequently sport cannot rely on the fact that seasons will be as they were in the 70's 80's. So for a fair game world wide Artificial turf would be a logical development.

So my work is looking at the biomechanics of the athlete when they perform on a variety of turf (Artificial and Natural) to ensure that we are replicating conditions, whilst maintain the game and creating a reliable turf that can cope with the large majority of weather conditions.

Biomechanics looks specifically at the human mechanics, separated into determining movement and the actions that cause them. Specifically I am / will continue to analysis the motions of the lower body during the period of contact with the turf and attempt to determine injury causing events in caused by movement that may be related to the turf properties in order to achieve an optimum surface for performance and limit the chance of injury.

Although we cannot completely remove injury from sport, I am attempting to understand what causes it.

My Typical Day:

Alarm, Get up, Cereal, Uni, Gym, Dinner, Reading / Tele (Chillout time!)

Read more

My typical day starts with the annoying  sound of my alarm, i will then enjoy a BIG bowl of coco pops or Honey nut cheerios as I am a big kid at heart!!!! I head to work around 8 and start the morning with a cup of tea. I may have one of two types of days, one could be work station based, these days may be spent reading, writing or analysing data; or I may be testing. On a testing day I may get out one of our two motion analysis systems.

A testing day is more exciting so I will tell you about that.

I will have a subject in, who will be marked up, this involves placing reflective markers on the joint centres, and temple of the head, the markers are power by small battery pack which are the blue boxes.

Similar techniques were used when investigating Ronaldo kicking technique in a recent television series

These markers reflect back to the CODA / Vicon systems

The data from this enters the analysis package and we can rebuild the figure so we can see the movement.

And then analysis the force acting on the human body through the ground reaction force

and finally examine a variety of angular changes of the joints

and speeds at which theory do that

Particiapnt testing can take all day, the importance of obtaining data that is reliable and valid is essential and therefore in my research I attempt to remove any fatigue potential.

At the end of my day I tend to leave around 5-6pm and will either go to the gym or (the most common) I return home and cook one heart meal!!!

Then tending to chill out catch up on reading or TV before heading to the land of sleep around half 9 or 10pm.

What I'd do with the prize money:

To increase the awareness of human biology, and try and prevent it being lost in the national curriculum
My Interview

How would you describe yourself in 3 words?

motivated (but highly strung!!), creative and fun.

Were you ever in trouble at school?

I was a bit if a goody two shoes however, i was made to stand outside the headmistresses office in primary school because i retaliated when the school bully pulled my hair :0(

Tell us a joke.

Why were the teachers eyes crossed……she couldn't control her pupils!!!
My profile link:
https://ias.im/u.20771
---
---
---